I was almost certain I'd updated since February. Even when talking to somebody recently who told me off for lapsing, I was convinced that I'd at least updated in April. But either the entry is long gone or my brain is actually failing me.
SCUBA
The end of March saw Sam and I qualify as PADI Open Water divers, care of the wonderful Dive Style.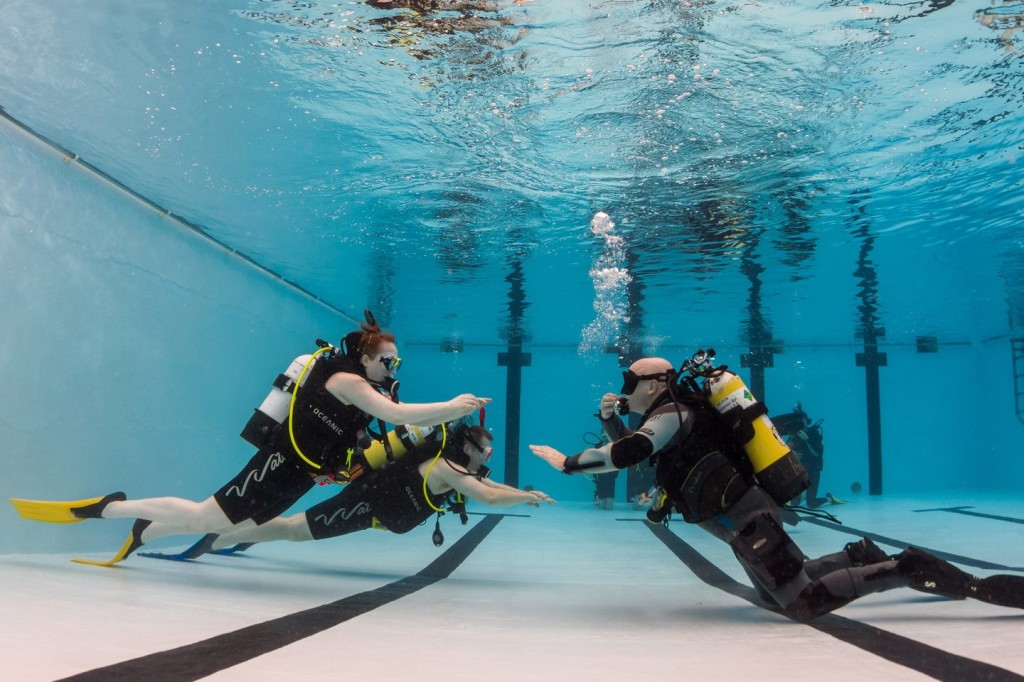 This was not without its challenges, though. The actual dives took place at Wraysbury Dive Centre – a flooded freshwater quarry and at the end of March when the water was a balmy 7°C. Luckily for us, we had the first sunny and warm weather of the year so the outside temp was more like 17°C, so we warmed up pretty fast!
Unfortunately, during one of the tests which involved swapping my regulator (mouth piece) with Sam's emergency one, I did not seal my lips properly around it and ended up breathing/swallowing water and surging to the surface in a bit of a panic. We were only 7m down though but it has frightened me enough to make me weary.
As a result, when we did further dives in the Maldives (honeymoon, more about that later) I could not relax and possibly did not enjoy it to my fullest, despite the beauty of the ocean life found there. We did manage, however, to further our credentials by getting Nitrox qualified and going to Adventure level of our PADI quals. We had planned to go Advanced, but for whatever reason our instructor advised against it.
Before I do anymore, I'm going to have to work on relaxing under the water. What didn't help was the feeling of being rushed into going under when I would have happily wanted a few minutes at the surface.
Honeymoon
We had two lovely weeks in the Maldives, snorkelling and scuba diving for most of the time and enjoying doing not very much for the rest of it!
As a usually nervous flyer, I was pleased by how well all the flights went and a lot of thanks to Qatar Airways for making it so. Especially impressive was the selection of films which kept me occupied throughout and my mind off of landing/takeoff.
We stayed in a lovely water villa at the Centara Ras Fushi resort which allowed us to swim and snorkel whenever we liked. We kept encountering these bad-tempered little fellows:
Beautiful, but annoying as they try to headbutt you whenever they see you. Very territorial. Their bigger cousins are supposed to give quite nasty bites. They made such an impact, we brought a fridge magnet as a souvenir!
Other underwater creatures we encountered included black fin sharks, moray eels and stingrays. Sadly, no manta rays or turtles.
The food at Centara was fantastic as were the beaches and general customer service. I did not get to experience the spa as our budget went mostly on Scuba trips.
JQuery Conference
A couple of weeks back, work treated me to a workshop and conference in Oxford (http://jqueryuk.com/) to expand my knowledge base and I have to say, they were the best ones I've been too.
My workshop was entitled 'Web Developer's Toolbox' and gave a basic taste of a number of tools (for example, SASS, bower and grunt) designed to make web development that much easier. It was good to actually give these things a go and nice to know it was something I could actually do. The pace was not overwhelming either, unlike a node workshop I went on a few years back that wasn't really for beginners but didn't make that clear…
The conference itself was full of useful information and inspiring speakers, highlights of which included hardware coding using JavaScript (not really useful for the job, per se, but certainly made me think about going to try it myself) and graphical effects using the browser though, and the same with most of the cool new stuff css/js can do, likely not useable in all our supported browsers (IE, I am looking at you here).
Crossfit
Has been going well as in I have been attending and hitting many PBs with my lifting, though as someone who hasn't been doing it long and doing many of these lifts for the first time, I guess that is easy. Am pretty happy with my strength levels.
My cardio work is another matter though. I always seem to lag behind the others with my times. I think personal goals are the key, but 2 weeks off set me back and I am wondering if I should be doing yet more. I'm considering adding 2 bouts of running a week to my exercise regime so I can join my bestie, Matt, on some of his runs.
But generally, everyone else makes me feel unfit. And yes I do push myself. If I feel pain, though, I stop and quite often I feel nauseous.
Updating
I've plenty to say and I do (currently) have the time to type it but I guess I've just forgotten. I started this block to discuss work related things but I suppose I talk more about general stuff. I think it's better to update with that rather than wait until I feel inspired as I find motivation to discuss technical issues outside of the workplace tough and motivation to pursue personal projects even more difficult. I suppose I am a compartmentalised person like that.